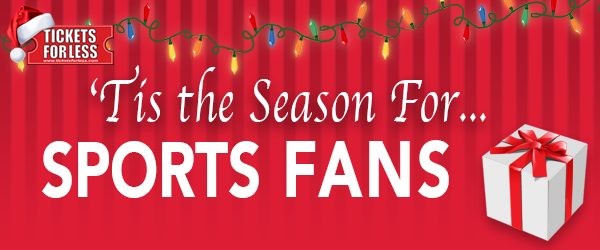 Top Gifts for Sports Fans
Not sure what to get the Sports Fan that has EVERYTHING? Buy them a one-of-a kind gift and give them tickets to see their favorite team play!
#1-Chiefs vs. Denver Broncos
Dec 25 | Arrowhead Stadium
This is one of the biggest rivalries for the Kansas City Chiefs and a must for die-hard KC Chiefs fans. Upgrade to a VIP experience with a VIP Tent pass and a Parking pass. Shop Chiefs vs. Broncos Tickets.
#2-Royals Home Opener (vs. Oakland A's)
Apr 10 | Kauffman Stadium
Watch the Kansas City Royals, the 2015 World Series Champions, kick-off the 2017 baseball season at Kauffman Stadium as they face off against the Oakland A's. Get Royals Home Opener Ticketsnow.
#3-Big 12 Tournament
Mar 8-11 | Sprint Center
See one of NCAA Basketball's biggest events: the 2017 Big 12 Tournament in downtown Kansas City. Watch favorite Big 12 teams play during All Sessions or a single session. Shop Big 12 Tournament Tickets while supplies last.
#4-KU Jayhawks vs K-State Wildcats
Jan 3 | Allen Fieldhouse
Support the Kansas Jayhawks as they play against rivals the K-State Wildcats at the iconic Allen Fieldhouse in Lawrence, Kansas. Buy Jayhawks vs Wildcats Basketball Tickets.
#5-KU Jayhawks vs. K-State Wildcats
Feb 6 | Bramlage Colisem
Big K-State Wildcats fan and want to support the Wildcats on their home turf? Watch the Jayhawks and Wildcats battle it out on the court when they play in Manhattan, Kansas. Shop K-State Wildcats vs KU Jayhawks basketball tickets now.
#6-MU Tigers vs Kentucky Wildcats
Feb 21 | Mizzou Arena
Don't fear- we have a great gift for Mizzou fans too! Watch MU Tigers play against the Kentucky Wildcats at Mizzou Arena in Columbia, Missouri. Bet Mizzou Tigers vs Kentucky Wildcats basketball tickets before they're gone!
#7-KU Jayhawks vs. Iowa State Cyclones
Feb 4 | Allen Fieldhouse
Another classic rivalry happens at Allen Fieldhouse in February. Watch the Jayhawks go up against the Iowa State Cyclones in Lawrence, Kansas. Shop KU Jayhawks vs Iowa State Cyclones basketball game tickets.
#8-NCAA Mens Midwest Regionals
Mar 23 & 25 | Sprint Center
A perfect gift for the March Madness fan in your life! See the 2017 NCAA Mens Midwest Regionals at the Sprint Center in downtown Kansas City. Buy March Madness Midwest Tickets now.
Happy Holidays and Happy Shopping!