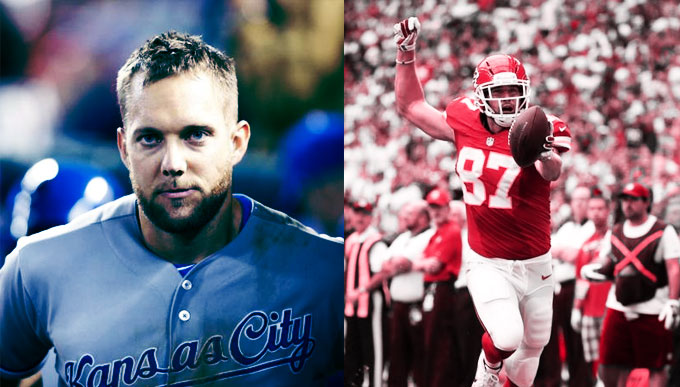 Big time news this week in Kansas City, as Sports Radio 810 was the first to report that the Royals had offered Alex Gordon a contract, keeping him a Royal for another four years. It seems like this is what is best for both parties involved, and certainly the fans wanted to keep Gordo in Kansas City, as he ranks a top of Royals fans hearts along with the likes of George Brett and Frank White. Gordon's $72 million dollars is well deserved and doesn't seem like it will be a financial strain for this franchise.
Turning our attention to the NFL playoffs and specifically the Kansas City Chiefs, who also received some good news this week, as linebacker Justin Houston says he will play on Saturday in Houston. This is obviously big time news for the Chiefs, as he brings an aspect to the defense that not many players in the league provide. I think the biggest concern when he went down is can the Chiefs defense continue to play at a high level without him. They certainly did, players like Dee Ford, who had his coming out party against San Diego, and Jaye Howard stepped up and put pressure on every quarterback the Chiefs faced down the stretch.
We also learned that Jeremy Maclin is back in practice, and it goes without saying how important he is to Alex Smith and this offense. It was reported that Maclin was "limited" in practice, and his status for Saturday remains uncertain. We know he is a tough guy, who has been through a lot of adversity over the years, but in the NFL knows him better as a person and a player than Andy Reid, and the right decision will be made.
On to the Texans, who enter the playoffs on a winning streak. It's not a 10-game winning streak like we have been experiencing in Kansas City, but they won 7 of their last 9, including their last three to seal the AFC South over Indianapolis. I watched a little bit of Houston's game against Jacksonville on Sunday, as they had a noon kick, and their defense is pretty good. They give up only 20 points a game, which ranks in the top ten in the NFL. Everybody knows about JJ Watt, he leads the NFL in sacks and will probably be the NFL's defensive player of the year.
They certainly get pressure on quarterbacks, but the best QB they have beaten this year is Andy Dalton, who had a brutal night. They handled QB's like Blake Bortles, and Marcus Mariotta, but those guys aren't Alex Smith, who doesn't turn the ball over.  What I saw from their game against Jacksonville is that this Texans defense is quick to get in the backfield, and disrupt a passer. The Chiefs have an incredible ability to get out of trouble with Alex Smith's ability to run; it has been a game changer for the Chiefs this year.
Houston's defense is good, but it's not as good as the Chiefs, and they don't make the game changing plays that the Chiefs do. Houston has only forced 26 turnovers, while KC has forced 35. Big time turnovers are far more important than having an individual sack leader. The interesting matchup for the Chiefs will be Marcus Peters on DeAndre Hopkins, he's a stud, and would be even better with just an average QB throwing him the ball. Hopkins caught 11 touchdowns for just over 1,500 receiving yards. He is the heart and soul of the offense and Peters will have his hands full.
We talked about it with Alex Smith on the show today, and his answer was very humble as he respects every opponent he plays. But he seems very confident in this team, more so than the team that blew the big lead in Indy two years ago. This Chiefs team can win in multiple ways, as I wrote a few weeks back. The only concern I have for the Chiefs is if they get down early and are forced to come from behind. They did it against Buffalo, but… It's the Bills. We have seen times during this winning streak where the offense struggled at times, and the team won because of the elite defense.
It's been a while since the Chiefs have been the better team across the board going into a playoff game. KC is better than Houston in every aspect of the game, and are more battle tested. Kansas City has had adversity thrown at them in every way, overcame and won 11 games. Plus, this game is on the road, where the Chiefs have thrived this year.