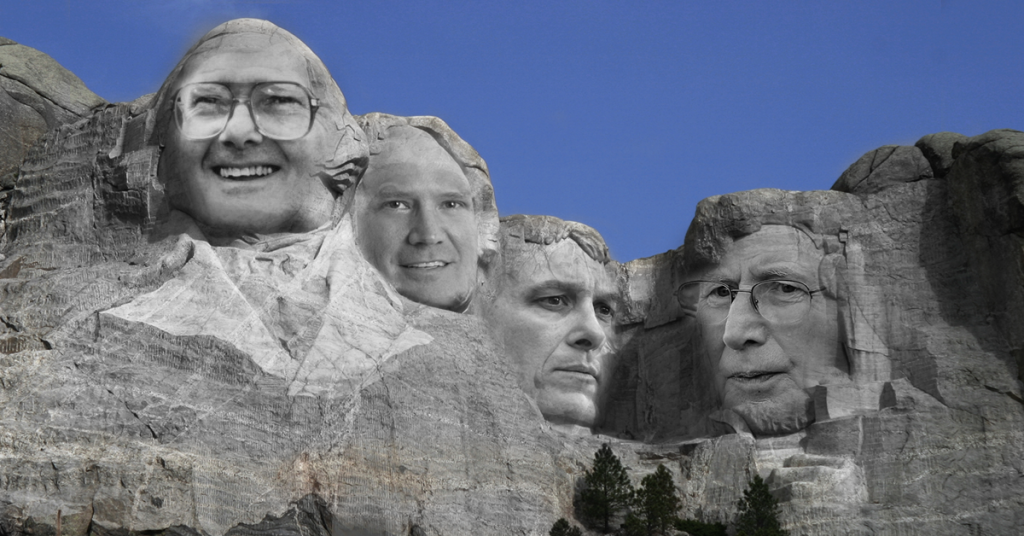 In honor of President's Day, we pay homage to Kansas City's Top Sports "Commanders-In-Chief" that have led Kansas City baseball, basketball, and football teams to record seasons, playoff games and conference titles (including the 2015 World Series).

Lamar Hunt

Lamar Hunt was instrumental in the formation of the American Football League, AFL-NFL merger, and is best known by locals as the first Kansas City Chiefs owner. Hunt put Kansas City football on the map, and brought the Chiefs to the inaugural Super Bowl against the Green Bay Packers, followed shortly three years later with a championship win against Minnesota Vikings.
During the '90s, Hunt hired Carl Peterson, and they earned the distinction of becoming just the fourth Owner/General Manager combination to preside over a franchise for all 10 years of a 100-win decade.

Carl Peterson

Carl Peterson is a former president, general manager, and chief executive officer of the Kansas City Chiefs. Hired by Lamar Hunt in 1989, Peterson hired four coaches during his tenure of twenty years, including legendary coach Marty Schottenheimer. Under Peterson's leadership, the Chiefs were the NFL's winningest team in the 1990s, won 4 AFC West championships, and played it the team's only AFC's Championship game in 1994. Peterson also boosted the team's success off the field with attendance at Arrowhead improving dramatically.

Marty Schottenheimer

Upon Carl Peterson's arrival to Kansas City, Peterson made one of the most historic hires in the Chief's history with naming Head Coach Marty Schottenheimer. Schottenheimer led the Kansas City Chiefs to its most successful period since former coach Hank Stram, spending a total of 10 seasons with a 101–58–1 regular season record (.634). Schottenheimer helped the Chiefs to three division titles, seven playoff appearances, and a trip to the AFC Championship game in 1993.

Bill Self

Bill Self became the eighth head coach of the Kansas Jayhawks Men's Basketball team on April 21, 2003 and is one of the Jayhawks all-time favorite coaches. In 13 seasons, Self has won one national championship, a record 12 straight regular season Big 12 Conference titles and 7 league tournament championships. Self is 385-83 with an average of 29.6 wins per year. Get Kansas Jayhawks tickets and watch them play as they wrap up their 118th season.

Bill Snyder

Bill Snyder is the head football coach at Kansas State University. Snyder has amassed a 193-101-1 (.656) record during his tenure with the Wildcats, including a 111-77-1 (.590) mark in Big 8/12 games. He also coached K-State for the program's 300th, 400th, and 500th all-time wins. Snyder is in the College Football Hall of Fame and has won several conference and national awards. As recently as October, 2016, Snyder has the third most wins out of any active NCAA Division 1 head coach. Recently, Snyder revealed that he is battling throat cancer, but doctors say the prognosis is good and he is expected to be on the field for Spring practice.

Dayton Moore

Dayton Moore is the general manager of the Kansas City Royals and began his role as GM in 2006. Moore's tenure in KC has been one of the most successful runs in franchise history as the Royals have boasted 12 Rawlings Gold Glove Awards, 20 All-Star Game selections, two Louisville Silver Sluggers and a Cy Young Award winner. Under Moore, the Royals won the American League in 2014 and advanced to the World Series. In 2015, the Royals won the World Series after a memorable season. Buy Kansas City Royals tickets and watch them kick off the 2017 season on April 10th for the Home Opener against the Oakland Athletics.

Dick Howser

Dick Howser was hired to manage the Kansas City Royals in 1981. The next two years, the Royals finished in second under Howser's leadership. In 1984, Howser led the team to a division title, and in 1985, he guided the team to their first World Series title. During the 1986 Major League Baseball All-Star Game, broadcasters noticed Howser messing up signals and he later admitted to feeling sick before the game. That was the last game Howser managed as he was diagnosed with a brain tumor and underwent surgery. Howser attempted a comeback to Kansas City in 1987 for Spring Training, but was too weak and died three months later.

Watch Bill Self, Bill Snyder, and Dayton Moore in action! Get Kansas Jayhawks Basketball tickets, K-State Football tickets, and Kansas City Royals tickets at Tickets For Less.