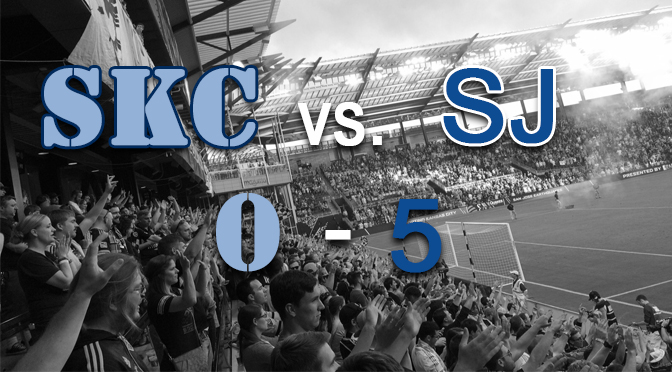 Fans routinely come away from home games at Sporting Park full of memories from incredible performances by their team, however, Wednesday's 0-5 drubbing by the San Jose Earthquakes was a night to forget for everyone.
Peter Vermes was none too happy after the game, expressive his displeasure with the backline–rightfully so–and emphasizing that his team hasn't separated itself in any way in the Western Conference, despite the recent wins and positive press clippings.
Defensively, there isn't an excuse in the world to describe the performance of Matt Besler and Kevin Ellis were a step slow the entire evening, as was the rest of the team, and because of poor finishes, San Jose missed out on a chance to potential tack on at least three additional goals.
The loss was the first of the year at home for Sporting, and a missed opportunity to add 3 points in the conference standings.
Sporting headed into the locker room at half without a single shot on goal, which led Vermes to make two replacements to start the second half, putting on Mikey Lopez and Marcel de Jong.
It's not often you see Sporting Park empty out with plenty of time left on the clock, but that was the case Wednesday, a perfect evening in Kansas City.
Sporting must block out the loss quickly, as they head out on a 4-game road trip, starting in Columbus, Ohio to take on the Crew and former Sporting star Kei Kamara.
With 11 games left in the season, Vermes made it clear there is still plenty of soccer to be played and his team has time to secure wins and solidify their spot in the playoffs.
Over the past month, Sporting has been one of the best teams in the MLS and remains a team capable of reaching the MLS Cup championship.
Sporting Park will host four more home games this season, all but one against teams which rank among the best in the MLS in FC Dallas, Seattle, Colorado, and Los Angeles.
Games against Seattle Sounders, FC Dallas, and Los Angeles Galaxy are increasingly important, as all three currently hold playoff spots in the conference, with LA leading the way at 43 points–three ahead of Sporting.
Tickets For Less has incredible seats available for all remaining games in the 2015 MLS season. Head to Tickets For Less for great prices on a variety of seating options are the beautiful Sporting Park. All prices come with zero hidden service fees, so you know exactly what you're paying for before you finalize the purchase!