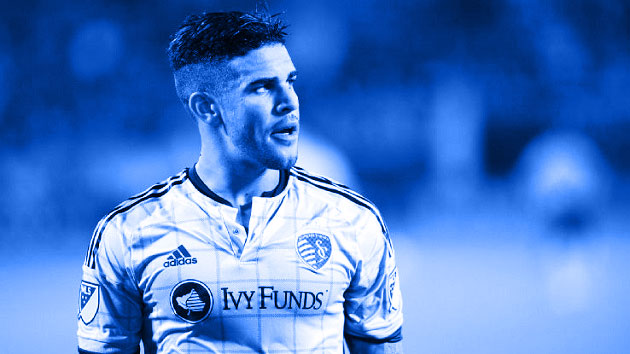 With Kansas City on a sports high right now with everything Royals, Sporting Kansas City had its chance to join the party and keep fans energized by securing a spot in the 2015 MLS Cup Playoffs against the lowly Colorado Rapids.
It wasn't the night everyone had hoped for, however, as Sporting fell to the undermanned and cellar-dwelling Rapids, 2-0.
As stated after the game, Sporting knew what needed to be done in capturing the needed 3 points for a playoff birth, but the team simply didn't get the job done. Embarrassing might be too strong a word for the loss, but it certainly was gut-punching with just one match left on the schedule against the defending champs LA Galaxy, Sunday.
In need of three points, the task is going to be a mountain to climb for a team in search of its fifth-straight playoff appearance.
Even worse for Sporting was the defense giving away two goals after the 77th minute, and unable to generate any offense of its own against a team which shouldn't have been able to walk away with a victory at Sporting Park.
Despite the loss, Sporting can end the drama with a win over LA, otherwise, a loss would force them to rely on others in the Western Conference to help them out, which is never an enviable position to be in.
With a draw, they could squeak in because of their current standing above the red line in sixth place, however, with only a 1-point lead of San Jose, and win from the Quakes would vault them into that spot should Sporting lose or draw against LA.
With a loss or a draw from San Jose, Kansas City would back-door their way in to the playoffs helplessly.
For Peter Vermes, seeing his team under-perform in a must-win situation wasn't a comforting sight, but the only option left is to hit the field hard against LA, which will almost certainly come out with the mindset of spoiling the day for Sporting.
In need of tickets for Sundays big match at Sporting Park? Tickets For Less is your source for incredible seating options for all Sporting matches. Head to Tickets For Less to choose from a variety of seats throughout beautiful Sporting Park, and cheer on your home town club as they look to clinch a spot in the 2015 playoffs and make another run at an MLS Cup championship. With zero hidden fees, what you see is what you get on all purchases. Get your tickets today and Go Sporting!