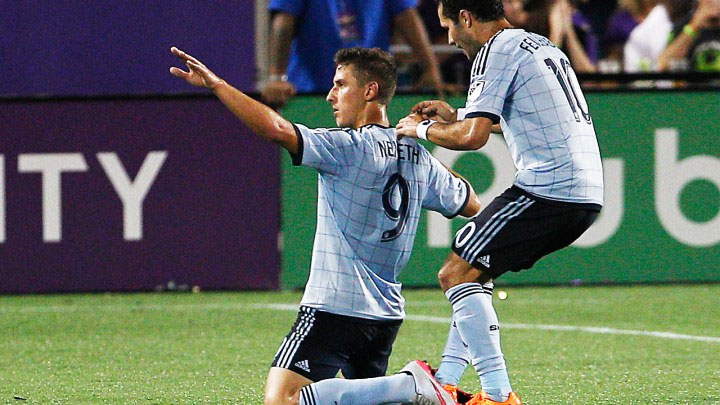 After another playoff season for Sporting Kansas City, the team now looks ahead to next season and how Peter Vermes and Co., can bring home another MLS Cup title.
In roster moves announced, Sporting KC announced a list of players which will be out of control as of 12/31. Among those players includes goalie Jon Kempin, Soni Mustivar, and Seth Sinovic. The team will work to resign and negotiate the contracts of the players which are facing expiring deals.
In addition, Sporting has picked up the contracts of Saad Abdul-Salaam, Amadou Dia, Kevin Ellis, Benny Feilhaber, Connor Hallisey, Jimmy Medranda, Tim Melia, Chance Myers, Krisztian Nemeth, Ike Opara, Erik Palmer-Brown and Jordi Quintilla.
Those players whose contracts were picked up, namely Benny Feilhaber, Kirsztian Nemeth, Ike Opara, and Jordi Quintilla, will stay with a core group which also includes Bernardo Anor, Matt Besler, Marcel de Jong, Dom Dwyer, Roger Espinoza, Amobi Okugo, Jacob Peterson and Graham Zusi. The 20-man roster is one of incredible talent and players which can bring home plenty of hardware for one of the more successful organizations in Major League Soccer.
Goal of the Year
Krisztian Nemeth brought home the award for MLS Goal of the Year.
His goal in the 83rd minute of a 1-0 win on 10/3 against the Portland Timbers came just days after Sporting defeated the Philadelphia Union for the 2015 Lamar Hunt U.S. Open Cup.
His 23 combined goals across all competition was the most ever for a newcomer in club history. Nemeth shared the 2015 U.S. Open Cup Golden Boot award with teammate Dom Dwyer.
When the 2016 MLS season arrives, make Tickets For Less your source for each and every home game at Sporting Park. With zero hidden service fees, what you see is what you get on all ticket purchases. With tremendous prices and seating options throughout one of MLS's best stadiums, Tickets For Less has the best option for you for any and all matches for 2016. Go Sporting!