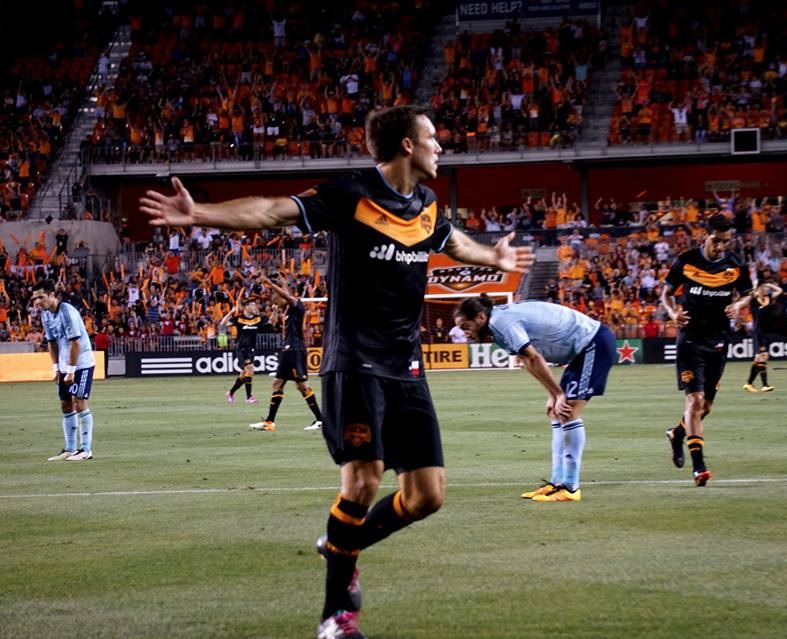 It's been a rough go for Sporting Kansas City over the past several weeks.
In the last six matches, Sporting has yet to record a win, and things didn't get better against last-place Houston, which hadn't won a match since March 12.
The 2-0 loss was a brutal one considering the opponent and the Western Conference standings, which currently places Sporting in 6th heading into its next match on Wednesday.
Peter Vermes inserted two players back into the starting lineup following a 1-1 draw against the LA Galaxy; Soni Mustivar had missed six starts due to a lingering hamstring injury, while Chance Meyers returned from a thigh injury suffered back on April 9.
Brad Davis made his return to Houston where he recorded 271 appearances with the Dynamo and won 2 MLS Cups.
Sporting recorded more shots on goal than Houston did, but couldn't generate any scores for their efforts.
Houston was coming off a six game winless streak of its out before notching the win against Sporting KC, and the home team head to head, has won each of the last 9.
Sporting had three shots on goal in the first 10 minutes of the match and looked to be the better of the two sides on the night. One of the best chances came when Dom Dwyer slipped in a perfect pass to Graham Zusi who just missed the back of the goal wide right.
Since a win over the New York Red Bulls on April 9, Sporting has lost four and drawn even twice, causing plenty of frustration for Vermes and his players.
The team will travel to Colorado to take on the Rapids at Dick's Sporting Goods Park. Colorado is 6-2-2 and sits in first place in the West by 2 points over LA. The next home match will take place on Sunday, May 15 against Orlando City SC. For tickets to the next home match, as well as all remaining matches at Children's Mercy Park, visit Tickets For Less to choose from the best seats in the house, and with zero hidden service fees, what you see is what you get on all ticket purchases.