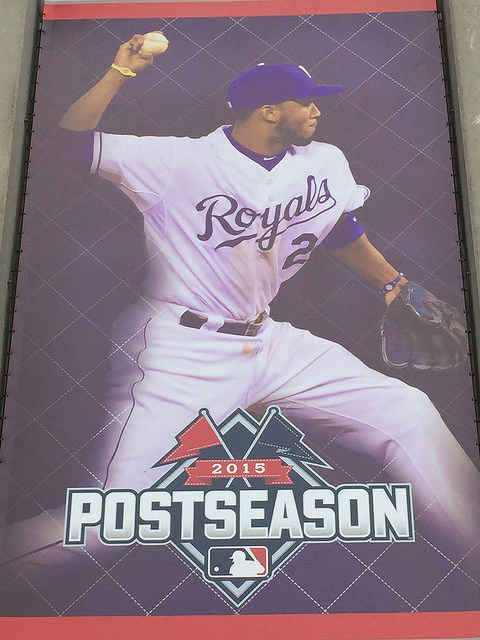 Ned Yost and Dayton Moore plan to hold out on finalizing the 25-man playoff roster until after Tuesday's Wild Card game between New York and Houston, but did announce Yordano Ventura will start for Kansas City on Thursday for game 1 of the ALDS.
Ventura went 4-1 during the month of September, and overall appears to be the most impressive choice for the starting role to kick off the 2015 postseason.
Following Ventura will be Johnny Cueto on Friday for Game 2, and Edison Volquez for Sunday's game 3 in either New York or Houston.
Ventura has ridden an up and down roller coaster this season. After a rough start, the young ace seemed to reign himself in both emotionally and in his pitch control, but followed that with more inconsistency on the mound which eventually led to Ned Yost deciding to send him for assignment in Omaha, NE. However, an injury hit the starting rotation, and Ventura was called back to the team before he could even leave Kansas City.
Ventura certainly has the stuff to be a dominant pitcher in the playoffs, but his tendency to lose his edge and give up early runs has been an issue throughout the season.
If there is one thing the Royals must avoid in the playoffs, it's giving up early runs and putting an extreme amount of pressure on the bats to come back.
Throughout the season, Royals pitchers have been susceptible to giving up early-inning homers, causing the offense to have to press the rest of the game.
Much like they did a season ago, Kansas City needs to use its pitching and base-running to control the pace of the game and dictate the tempo. With a winning formula already having been proven last season, the starters are aiming for 6 innings of solid pitching in order to get the ball to the bullpen to close out the game.
It all begins Thursday at Kauffman Stadium, and fans having begun to get into playoff mode with a Tuesday pep rally held at the 'K' for anyone able to attend.
Ned Yost, Dayton Moore, and Royals players attended the rally, which was hosted by Rex Hudler and Ryan Lefebvre.
With anticipation and excitement in the air, offices around the metro are likely to be slightly less productive than they typically are.
Fans, don't miss out on your chance to see the Royals in the playoffs at Kauffman Stadium! Tickets For Less has a variety of ticket and parking pass options for every playoff game. ALDS tickets are available now, and with zero hidden service fees, you know what your paying before you finalize your purchase. Head to Tickets For Less, today, and secure your place in history and cheer on the boys in blue as they aim for another World Series appearance. Go Royals!