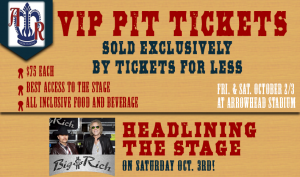 If you're from Kansas City, you know about the American Royal World Series of BBQ. In fact, if you're from Kansas City, you just plain know about BBQ, and no one in the country does it better than KC.
Beginning Thursday, October 1 and running through Sunday, October 4, Arrowhead Stadium–home of the Kansas City Chiefs–will host the 2015 American Royal World Series of BBQ. World-renowned pit masters and amateur BBQ enthusiasts will come together to cook up their very best to try and bring home the top prize for best BBQ in Kansas City. The 90th annual American Royal Parade will take place at the Truman Sports Complex on Saturday (Oct. 3) morning and will include the Cowtown Family Fun Fest presented by Cerner. Both Friday and Saturday night will include live music, and throughout the weekend, local BBQ providers Zarda Bar-B-Q, Plowboys, and others will provide food options and other festivities in the Budweiser Pavilion throughout the weekend.
Tickets For Less is offering a special opportunity to enjoy the American Royal World Series of BBQ as a VIP by offering VIP Pit Tickets.
VIP Pit Tickets are good for either Friday, October 2, or Saturday, October 3, and can be purchased for $75 at ticketsforless.com.
With your VIP Pit Ticket, you'll have incredible access to the stage for live music and performances, as well as all-inclusive food and beverages.
Big & Rich take the stage on Saturday, and your VIP Pit Ticket will bring you up close and personal for the entertainment that evening.
VIP Pit Tickets cost $75 each. General admission tickets cost $19.50 each including all fees.
*MUST BE 21 YEARS OLD TO PURCHASE / ENTER
Tickets can also be purchased in person at:
Tickets For Less
7960 West 135th St
Suite 100
Overland Park, KS 66223
Hours:
Monday – Friday 8:30 AM CST – 6:00 PM CST
Saturday 8:30 AM CST – 4:00 PM CST