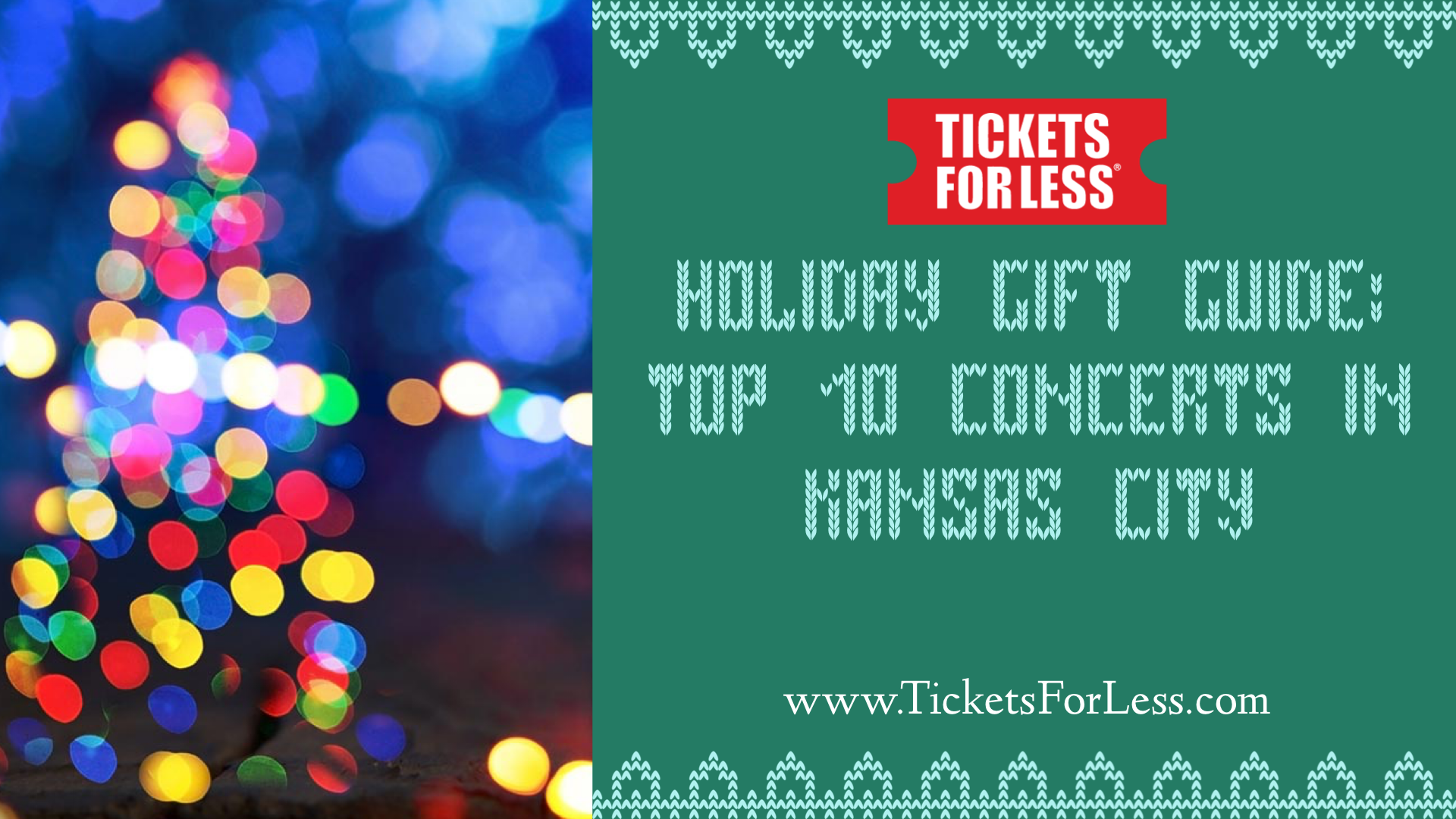 The holiday season is here, and we know it is growing ever harder to shop for the special people in your life. Why not ditch the department store and give someone the gift of an unforgettable experience? The Tickets For Less Holiday Gift Guide to the top concerts in KC will offer you the chance to give someone memories for life this holiday.
Below you will find our Holiday Gift Guide that profiles the top upcoming concerts in Kansas City. From icons like Elton John and George Strait to popular artists like Post Malone and the Kane Brown, this list is sure to fill you with holiday cheer.
The following list is broken down in order by date:
George Strait | 8 p.m. | Jan. 25-26 | TICKETS
The acclaimed "King of Country" will leave his throne in Las Vegas for a tour across the Midwest in early 2020, including a pair of shows at the Sprint Center on Jan. 25 and Jan. 26th in Kansas City. Both shows are scheduled to begin at 8 p.m. with Asleep at the Wheel set to open for Strait.
George Strait will also perform at 8 p.m. on Jan. 24 at INTRUST Bank Arena in Wichita, Kan.
---
Post Malone | 8 p.m. | Feb. 5 | TICKETS
Multi-talented rap and pop artist Post Malone is set to bring his 'Runaway Tour' to the Sprint Center on Feb. 5. Joining him will be Swae Lee and Tyla Yaweh. The first leg of the tour was a smashing success and February's concert will be the first inside Sprint Center for Post Malone.
---
Miranda Lambert | 7 p.m. | Feb. 6 | TICKETS
Country music star Miranda Lambert will bring her Wildcard Tour to Kansas City in February, playing inside the Sprint Center. The show will be opened by the Randy Rogers Band and Parker McCollum, with the fun starting at 7 p.m. on Feb. 6, 2020.
---
TobyMac | 7 p.m. | Mar. 8 | TICKETS
Award-Winning artist TobyMac will bring his 'Hits Deep" Tour to Kansas City's Sprint Center on March 8. The concert will include multiple performers, including Tauren Wells and We Are Messengers, among others.
---
Dan + Shay | 7 p.m. | April 9 | TICKETS
Pop country duo Dan + Shay will bring 'The (Arena) Tour' to the Sprint Center on April 9, 2020 with special guest Chris Lane. The duo have found major success in country music while also collaborating with pop artists Justin Bieber and Kelly Clarkson.
---
Zac Brown Band | 7 p.m. | April 16 | TICKETS
Platinum country/rock band Zac Brown Band will bring "The Owl Tour" to the Sprint Center this spring with special guests Amos Lee, Sasha Sirota and Poo Bear. The award-winning band has 13 No. 1 hits to their credit.
---
Kane Brown | 7 p.m. | May 9 | TICKETS
New sensation Kane Brown will bring his "Worldwide Beautiful" Tour to Kansas City on May 9 with special guests Russell Dickerson and Chris Lane. As it currently sits, Brown's show at the Sprint Center will be the final stop on his tour.
---
Lauren Daigle/Johnnyswim | 7:30 p.m. | May 28| TICKETS
Christian music singer and songwriter Lauren Daigle will return to the Sprint Center in Kansas City on May 28, 2020. Daigle will be joined by Johnnyswim. The award-winning singer is coming to Kansas City to perform her World Tour.
---
Elton John | 8 p.m. | July 8 | TICKETS
Sir Elton John is scheduled to return to Kansas City on July 8 as part of his 'Farewell Yellow Brick Road Tour." This tour is entering its third year, and his stop at the Sprint Center will be the second overall during the tour.
---
Kenny Chesney | 5 p.m. | July 11 | TICKETS
Country music icon Kenny Chesney will return to Arrowhead Stadium on July 11 for his Chillaxification Tour with special guests Florida-Georgia Line and Old Dominion. Chesney last played in Kansas City in 2018 and played Arrowhead in 2015.
---
Honorable Mention:
Chance The Rapper | 7 p.m. | Feb. 22 | TICKETS
Cher | 8 p.m. | April 18 | TICKETS
Ozzy Osbourne | 7:30 p.m. | June 26 | TICKETS
---
You can find more information about tickets for all of your favorite artists at www.ticketsforless.com.
Can't decide which concert or event your loved ones want to attend? You can never go wrong with a Tickets For Less gift card. For more information about a Tickets For Less gift card, click here.
Still not finding exactly what you are looking for? Check out our Tickets For Less Holiday Family Guide for all of the great family events happening in Kansas City this holiday season.