What would an iPhone or an Android be without an app? Hard to think of phones before apps. Now-a-days, phones give us everything we need in the palm of our hands. With the release of the Tickets For Less App, available for iPhones and Androids, the TFL app gives you everything you could need and want right there with the tap of your finger. Perhaps you've been planning a big tailgate you forgot to buy a ticket for the actual game. Tap, tap, tap and boom. There goes the E-Ticket right to your phone. Ready to scan. You'll never skip a beat.
The app is there to give you a speedy, clean, clear and smooth experience buying tickets. Download the app, log in or create an account, and let's get started on all the steps of the app and how to optimize the best use of the app.
In order to best use this app to its full capabilities, you need to do a few things so that you get the best deals and specials. As soon as the app opens up, be sure to ALLOW all sms and push notifications. Approving these notifications, you'll be sure to have the best experience with the app and have access to all our promotions the moment they start.
Let's Navigate!
The first page to view is logging in. If you have purchased from TFL within 2017, you're good to go! Those who bought tickets within the new year, have an account and that account transfers over it the app! You can simply log in upon downloading the app. Haven't purchased from Tickets For Less recently, no worries, you can do it right then and there. The transfer of information and the storage of new user information saves you time, giving you more time to surf for those perfect tickets.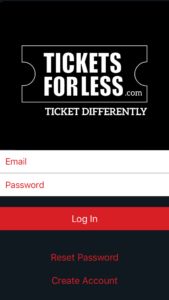 In order to adjust your profile or start your new one, on the home screen go to "Menu." Next, click "profile," then go to edit in the top right. Fill out all information. Don't forget to turn on "Email Alerts," and "Phone Alerts."Having these turned on, makes the Tickets For Less app map more efficient and effective. Ultimately, the Tickets For Less App saves you money. By allowing the alerts and notifications, you'll receive all the deals and promotions in order to give you the cheapest tickets possible. No more scrolling looking for the discounts. Let the Tickets For Less app direct you to the deals. You just sit back and relax and wait for them to come to you.
While navigating the app, once you're logged in, you don't need to again. Once you're done searching, close the app and it logs you out automatically. This keeps you and your account safe, but pain free while you navigate in the app.
As you check out, you will need to re-enter your password for double verification. The double security makes it possible to keep information safe, but hassle free when checking out. The app stores your payment information, if you allow it. Don't fuss with constantly adding the 16-digit card number when you can rest easy knowing it's saved and all you need to do is double verify yourself with a password. Yes, it's that simple.  This is extra security to make sure it is you at all times. So when you're purchasing those Chiefs tickets, you have the assurance that your payment is secured and safe.
To add your payment info, go to the home page. On the main screen of the Tickets For Less app, go to "My Account." Then go to your "Profile." There, you can store your payment method. Enjoy all the time in the world to explore tickets and prepare for the next big game, without the hassle of adding payment every time.
As you're searching for events and tickets on the Tickets For Less app, you may notice the "Trending Events," "Happening Now" or the "Change Location" tiles. In order to best serve you, you need to map your location in your iPhone/Android phone settings. Go to the Tickets For Less app in General settings and allow location to "always" be on. This will give the app permission to find the events in your area. It also shows exactly what's going on, where people are going, and what is the hot ticket for that area's event. If you want to check out another city, simply change the location while searching and you'll be directed to wherever you want to go.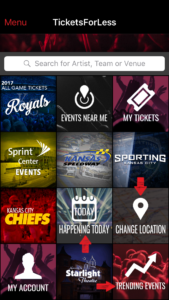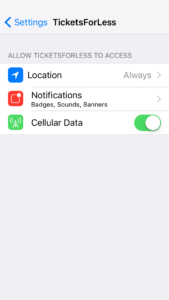 Kids these days seem to be able to maneuver any website or app starting before they can talk. The rest of us may need a little help. Tickets For Less aims to satisfy each and every customer's needs. This app makes life much easier and we hope you find it suiting to your ticket demands. The Tickets For Less App has everything you need and gives you all the deals/promotions right away. Don't skip a beat and never miss a deal with the Tickets For Less app.