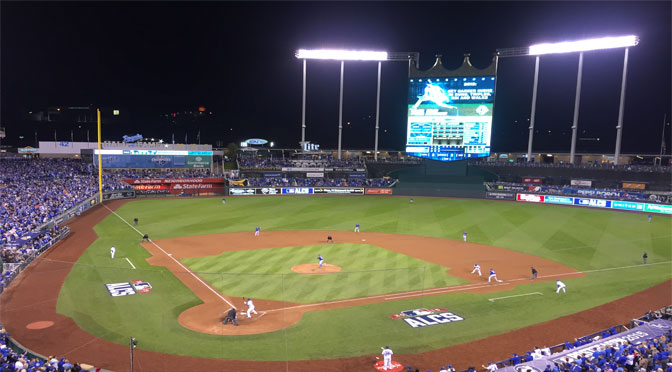 While it would have been great for the Royals to wrap up the series in 5 in Toronto, Kansas City still controls this series. Fans might be getting a little nervous, but there is no need. There is no doubt that throughout the regular season Toronto was a very good team at home. If it weren't for their average first half of the season, they would have won more games at home than anyone. Both the Dodgers and Cardinals won 55 at home, the Jays won 53. But Toronto's offense is just not the same at Kauffman Stadium, and if there's one thing you can bank on when it comes to the Blue Jays, it's that they are very little threat to win low scoring games.
It's easy to see why the Jays are so good in the Rogers Centre. It's a dome, there are no elements, visiting teams are never comfortable, and the fans think they're at a hockey game. It's tough.
In all reality, the Royals did what they needed to do in Toronto. Entering with a 2-0 series lead, the Royals needed to win at least one game. Mission accomplished. Now they come back home with the Blue Jays facing elimination. At the beginning of the series if you asked anyone in KC if they would sign up for the Royals having a 3-2 lead going into game 6, they would have gladly signed on the dotted line. KC still controls this series, especially getting two at home to go back to the World Series.
While the Jays were really good at home, they were not good on the road, even after they traded for Troy Tulowitzki, David Price, and Ben Revere. Those acquisitions gave the Blue Jays a huge boost of confidence and some real firepower to win the A.L. East, but even with all that talent Toronto was just 40-41 on the road, which is by far the worst road record of any AL playoff team.
Watching games one and two in Kansas City, you can see why the Blue Jays struggle on the road. We knew going into the series that Toronto has some egos in their lineup. In this series, I don't think I've seen a Blue Jay go down looking without throwing a fit or chirping at the umpire. You add that with Joey Bautista's pitty fits, giving up on fly balls, and yelling at umpires from the dugout, you can tell they are easily frustrated and it affects the way they play, especially in front of a loud crowd at the K. Earlier this week on Sports Radio 810, former Royal Brian McRae summed it up best. B-Mac played for Toronto too, and is still in contact with the club. He says there are egos and problems in the locker room. The Royals don't have that.
Game 6 is tomorrow night at 7 and it can be heard on Sports Radio 810. Yordano Ventura will go against David Price. It's a rematch of Saturday's game 2 that turned this series for the Royals. Price was unhittable through six and the Royals trailed and looked flat.  Price was having his best start of his postseason career, he was one-hitting the Royals going into the 7th before Joey Bautista gave up on a bloop in short right allowing the Royals a free runner. You could feel the sea change at the game, and then the flood gates opened up. I would be shocked if Price one-hits the Royals through 6-innings again, KC should be able to get to Price for 2 or 3 runs this time.
The big question is can Ventura hold his own? Can he go 6-innings without the blow-up inning? He hasn't done that yet in this post season. Can he limit the damage and hand it over to the bullpen? Ventura will be put in yet another high pressure situation, and he should be able to handle it. If you have followed trends in this series, both teams have traded off dominant performances in one way or another throughout the series. If you believe in that sort of thing, the Royals get that effort next.
My biggest concern, and this hasn't changed, is Ned Yost leaving his starters in too long.  Just go through the Toronto lineup twice and get your guys out and turn it over to the bullpen.  That's a winner for the Royals.
Royals win tomorrow night 6-4 and we will break down the Mets on Monday.
As far as the Chiefs and local college football, oh boy…thank goodness we have Postseason baseball.
Andy Reid and the Chiefs had a GOLDEN opportunity this year to finally knock off Denver and win the west. It's not a good division, Peyton Manning isn't good anymore and when he's not good, Denver has no offense. Manning IS the Broncos offense. But the Chiefs can't even contend this year in a bad division, and now the Steelers come calling. Nothing looks good, and the Chiefs have been unlucky too. That's a bad combo, and I'm really glad it's not my mess to clean up.
The Chiefs have Detroit coming up next week in London, supposedly an international showcase for the excellence of the NFL. Instead, it could be two one-win teams playing at 8:30am. That sounds awful. Not sure there is any turning this Chiefs season around.