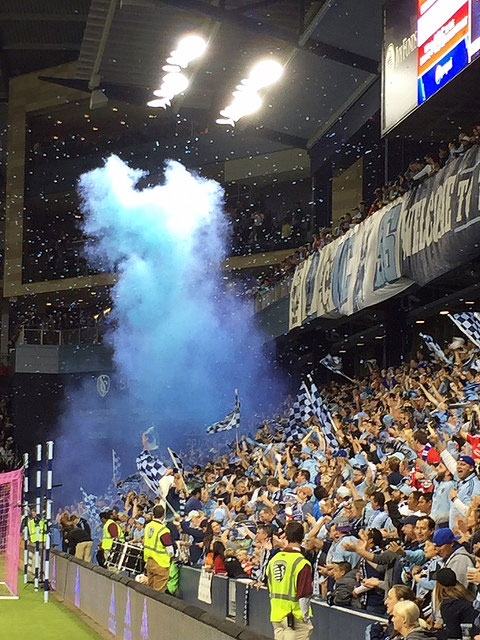 Even though Sporting Kansas City was unable to make a deep run in the MLS playoffs, they finished the season with plenty of highlights and optimism moving forward.
After capturing yet another U.S. Open Cup title, manager Peter Vermes is now 13-4-2 in Open Cup matches.
Young star Benny Feilhaber was one of two MLS players to finish the year with double digits in both goals (10) and assists (15).
Kevin Ellis' 4 goals was the most by any MLS defender, proving to be one of Sporting's top players throughout the season.
Matt Besler and Graham Zusi have been the mainstays for Sporting over the past several seasons, but for Vermes, many of his younger players and newly acquired players have begun to step forward and lead the team.
Speaking of Besler; the local favorite is making his way to the top of the list in appearances for Sporting with 219 to date. That is good for 7th in team history and he looks to be on pace to eventually hold the record.
Krisztian Nemeth recorded the most points (16 goals, 7 assists) by any newcomer since 1996, proving yet again that Sporting is sitting pretty with its current talent on the roster.
Sporting Park, which is widely regarded as the best atmosphere of any soccer stadium in the MLS, recorded it's 70th straight sellout, currently the longest active streak in the league.
Games at Sporting Park have become a must-see event, and the Kansas City metro area has completely bought in to what Sporting has become under the ownership group, led by Rob Heineman, who is as progressive as any owner in the league and has become the face of the organization, particularly through his activity through social media and bringing fans as close to the team and experience as possible.
With the future U.S.A. Soccer headquarters slated to be built alongside Sporting Park, soccer in Kansas City has a very bright future.
Heading into next season, Sporting Kansas City has plenty to look forward to and will once again be looked at as one of the favorites to make a deep playoff run.
As we wait for another spectacular season at Sporting Park, it's never too early to think about tickets to any of Sporting's many home games. Tickets For Less offer the very best in seating options throughout Sporting Park and with zero hidden service fees, what you see is what you get on all ticket purchases. Don't miss out on your chance to join the movement and be apart of Blue Hell at Sporting Park!