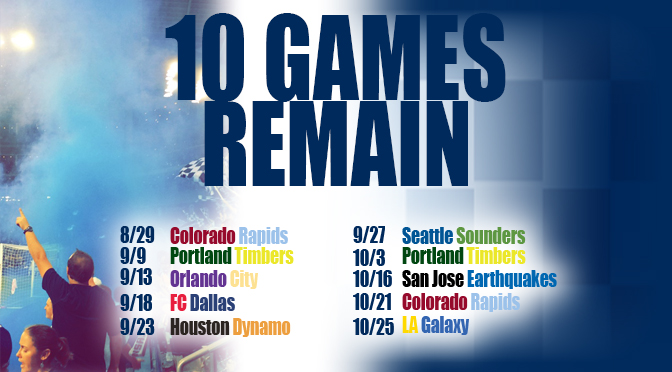 It's been a rough couple of matches for Sporting KC since it's four-game streak of 3-0-1. Following a crushing 0-5 home loss to San Jose in which the team looked completely lost and several steps behind the Earthquakes, Peter Vermes' crew hit the road to take on Columbus and former SKC star Kei Kamara, only to fall 2-3.
Vermes had tough words for his team after the San Jose loss, and although it was a close match against Columbus, Sporting is winding down the season with just 10 matches left and needing to avoid the loss column at all costs.
Sporting currently sits in third place in the Western Conference standings with a record of 11-6-7 and a total of 40 points. They'll take on Colorado, who sits in 10th place, on Saturday at 8 p.m.
Sporting is unbeaten in its past 11 matches against Colorado dating back to 2009, which includes the postseason.
Sporting players continue to receive recognition for great plays during the year, this time for Graham Zusi, who is up for Goal Of The Week. His trike against Columbus earns him the honor, and should he be selected, would be his fifth Goal Of The Week selection for his career.
Fellow teammate Marcel de Jong, was named to the Canadian National Team roster for a home and away series against Belize for third-round CONCACAF qualifying for the 2018 World Cup.
Canada will host Belize at BMO Field in Toronto on September 4, then will travel to Belmopan, Belize to finish up the away portion of the match-up at FFB Field.
de Jong has one goal and one assist over 14 appearances for Sporting. He first played for the Canadian National Team in 2007 at the age of 21, and has 36 career caps for Canada.
Canada currently sits at No. 101 in the FIFA rankings and is looking to make the World Cup for the first time since 1986.
During the August 31-September 8th window, both de Jong and Hungarian Krisztian Nemeth will be on international duty. de Jong will leave for training camp immediately following Sporting's match against Colorado this weekend.
For all upcoming Sporting matches, visit Tickets For Less and choose from a variety of seating options all around Sporting Park. Sporting returns home for a September 18th showdown with FC Dallas in a must-win game for two squads with their sights set on the MLS playoffs. Sporting Park and the Soccer Capital of America is the home of championship soccer. Don't miss your chance to see Graham Zusi, Matt Besler, and Dom Dwyer try and bring home another trophy!