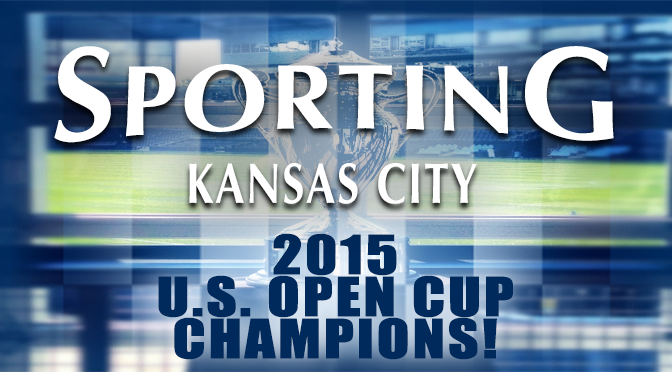 Wednesday night, in dramatic fashion, Sporting Kansas City took home the 2015 U.S. Open Cup championship on the road, in Philadelphia via a shootout (7-6) over the Union.
Nearly 800 fans traveled from Kansas City to attend the championship and support their team, which has quickly become one of the more followed MLS teams in the league and at Sporting Park, has become quite possibly the best home-field advantage in the country.
Sporting found themselves down a goal in the first half, but in the 65th minute, SKC's Graham Zusi, found fellow star Krisztian Nemeth for the game-tying goal. The two teams would find themselves in a defensive battle through extra time before facing off in a nail-biting penalty shootout.
After both teams missed a goal in their first five attempts, the went at it again, this time with Sporting coming out on top.
The win earned Sporting Kansas City one of four Unites States slots in the 2016-17 CONCACAF Champions League.
It's yet another major accomplishment for an organization which has been at the top of the MLS over the past several years.
Now, Peter Vermes and his team turn their attention to the MLS playoffs where they will attempt to bring home another league title to Kansas City.
Saturday, Sporting travels to Portland for a 9:30 pm first kick. The game is of considerable importance, and both teams are jockeying for seeding in the Western Conference. As it stands, Sporting holds a one-point advantage over Portland for the last two spots among the top 6.
Vermes knows his team needs to refocus after such a big win Wednesday, in order to keep pace with the conference and solidify their spot in the postseason for a chance at another MLS Cup.
In need of tickets for Sporting two remaining home matches? Tickets For Less has tickets on sale now. Head to Tickets For Less and choose from a variety of seating options throughout Sporting Park, America's home for soccer. Sporting Kansas City is fresh off a third U.S. Open Cup title, so don't miss your boys in blue head back home to secure a spot in the MLS playoffs. With zero hidden service fees, what you see is what you get at Tickets For Less. Go Sporting!