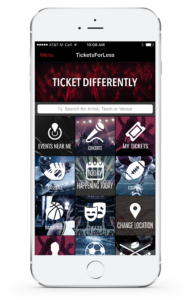 The iPhone will be 10-years-old this coming June. Crazy to think before 2007, there were no iPhones. Life has been forever changed and nothing has been the same. Life is easier. It's only getting easier as years go by. Tickets For Less is all about easy. Now, you will have your ticket in the palm of your hand because the launch of the Tickets For Less App can do just that! You can now purchase your tickets on the app and instantly download them to your phone. Easy enough, but it doesn't stop there.
The Tickets For Less App comes with all sorts of features and benefits to make your ticket experience easy and pain free. The app includes any and all events you can think of. Looking for a Chiefs Tailgate party event? It's on the app. Wanting tickets to Buck Night at the K? It's on the app (and shows you a list of all the Buck Nights for the season). Want something to do but not sure what? The TFL app shows trending events to show you what's going on near you so you don't have to miss seeing our favorite team or artist.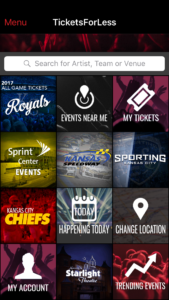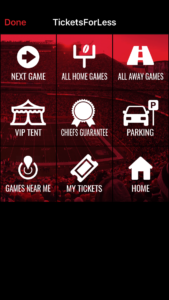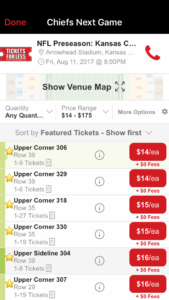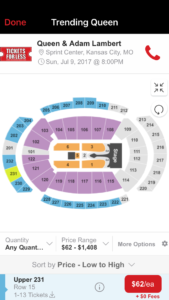 Everything you need for all your ticket needs can be found on the Tickets For Less App. Go to the Chiefs page and you'll find tickets for the next game, parking passes to buy right then and there (you'll definitely want the app before entering Arrowhead considering if you don't prepay for parking, it's $60 cash! If you forget, pull up to Arrowhead, pull out the app and buy away). Go to the Sprint Center page and there you'll see all upcoming concerts. "But wait… I want tickets to Tom Petty and the Heartbreakers but I'm not sure where I should sit." Well, each ticket page has a map of the stadium/arena/venue to show you exactly what view your seats will have.
If you're on Android or Apple, the TFL app is versatile among all platforms. It's also FREE to download. Once you find the tickets you want, the app accepts payments from credit cards, Apple Pay, and PayPal. Simple click of a finger and your payment is finished and your tickets are instantly downloaded and you're set for the event. What's even better, is that the app (if you want it to, of course) will store your information so you don't have to type it out each and every time. It makes buying tickets that much easier. Add in your payment info, then it's smooth sailing as each time you want tickets it's literally at the tips of your finger to get them. This App just gets better and better, we know.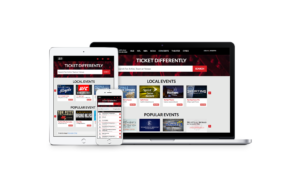 Things are glitz and glam on the Tickets For Less App but we didn't stop there. We updated our website to be mobile responsive, with a more prominent search feature and makes your web surfing for tickets just as easy. Your PC will smoothly maneuver through the website with no hassle or trouble. So for those of you who aren't as mobile savvy, perhaps don't have enough storage for another app (although you should delete one and add the TFL App- it's worth it) or just like using your computer, the TFL website still caters to all your needs.
You can find the Tickets For Less App on the iTunes or Google Play.