With the announcement of a partnership with Arrowhead Events, the special events arm of the Kansas City Chiefs, Tickets For Less introduced its Arrowhead Stadium tailgate tent. The tent is available at all ticketed events at Arrowhead Stadium. Tickets For Less has hosted the tailgate for multiple events at Arrowhead. We've hosted our tailgate tent for the the Kenny Chesney and Guns N' Roses concerts, U2 concets, preseason Chiefs games, regular season Chiefs games, and will continue to host the tent at Kansas City Chiefs games and other special events throughout the year.
Since the tent is one of our great features from Tickets For Less, we want to clear up any questions about the tent.
Here are some frequently asked questions about the tailgate:
How do I get admission to the tent?
Tent tickets will be on sale at ticketsforless.com along with tickets to the event. You can find all the specific events with a tailgate here. When you purchase a ticket to an Arrowhead Stadium event, you must also select VIP TENT. Prices for the tailgate tent pass will vary by event. Once you purchase a pass, show it to the Tickets For Less employee at the entrance to the tent and you're in.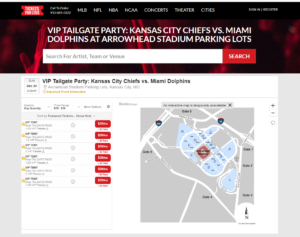 When does the tent open?
The tent will open 3 hours prior to game time or concert start. It will close down right at the beginning of the event. For instance, if U2 plays at 7:30PM, the tent will open at 4:30PM and will close at 4:30PM.
What can I do in the tent?
The tailgate tent is a catered VIP experience. Tickets For Less will provide food and drink options, yes that includes alcohol – Boulevard Wheat, Bud Light, Shock Top among other variations of beer. All you can drink and eat allows you to feel like a VIP for your event!
Tickets For Less also has plenty of tailgate games set up, like washers, beer pong, giant Jenga, ladder ball, and cornhole.
Can I leave and come back during the tailgate?
A wristband will be given to you upon entering the tailgate, which will allow you to come and go as you please.
Can I buy a tent ticket the day of?
Yes, if tickets are still available. We will sell remaining tickets at the entrance to the tent.
Tickets For Less is an Overland Park, Kans.-based tickets seller. We are one of the largest seller in the country of Kansas City Royals , Kansas City Chiefs, Kansas Speedway and Sprint Center tickets. To order, call 866-685-3322 or visit our website.
---
Subscribe to Tickets For Less emails!